Brought to you with the support of the Arconic Foundation.


---


---

Celebration of Veterans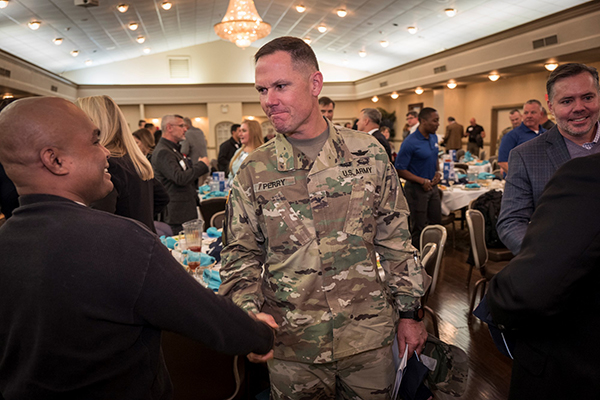 Col. Henry "Hank" Perry, Commander of the U.S. Army Garrison Fort Hood, greets SSG Meyar, one of the student panelists and first graduates of Heroes MAKE America at Fort Hood.

Heroes Make America (HMA) marked a milestone at its Celebration of Veterans event hosted at Fort Hood, Texas this Tuesday, November 13. In addition to celebrating the expansion of the program to its second location, the event recognized the contributions of veterans to this nation and the manufacturing sector. At the luncheon, Samsung Vice President of Strategic Communications Megan Pollock announced Samsung will be investing in the Heroes MAKE America program as a founding sponsor.
The Commander of U.S. Army Garrison Fort Hood Col. Henry "Hank" Perry, Jr. and Major General (Ret.) Ken Cox, COO of Workforce Solutions of Central Texas joined the celebration to emphasize the importance of training and preparing veterans to enter the workforce. Students 1SG Tommy Spearman, SSG Rawlin Meyar, SPC Eric Biencourt joined a panel moderated by Executive Director of The Manufacturing Institute Carolyn Lee to discuss how the program changed their perception of manufacturing. They also expressed surprise about the availability of jobs where they could directly apply their military training.
Representatives from HMA sponsors Allergan, Arconic, Georgia Pacific and Koch Industries, Newpark, National Gypsum Company, and Novelis all had the opportunity to meet the servicemembers enrolled in the program. From the HMA Partners Association Network, the Associated Equipment Distributors and National Fluid Power Association (NFPA) were also in attendance. A huge thank you to everyone that was able to attend and join Heroes MAKE America in celebrating veterans and this important milestone.

---

HMA Annual Program Overview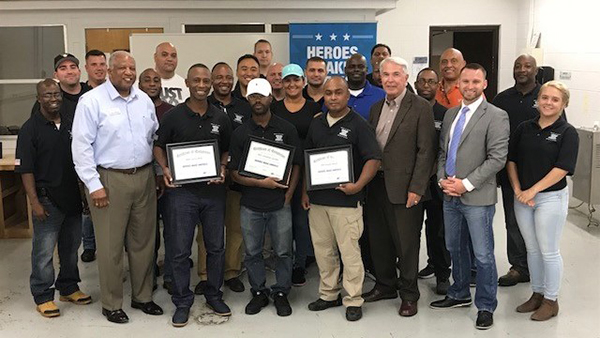 The first class at Fort Hood graduated only three students but the program is now reaching capacity as far out as May 2019. Pictured are students from the second class congratulating MSG Jamie Walls, SPC Jonathan Jacobs, and SSG Rawlin Meyar on their graduation (left to right).

Heroes MAKE America has made an incredible impact in its first year of operation.  In January, we set out on a path to arm transitioning servicemembers with industry recognized credentials and certifications that would complement their military skills and training to build a pipeline of qualified candidates for the manufacturing industry. It went from being a concept in 2017, to a national program in just 11 short months upon our expansion to Fort Hood, Texas in August of 2018.  We have had a total of 100 enrollments in the programs at Fort Riley and Fort Hood, and we are on track to have all 100 servicemembers graduate by January of 2019. 
To date we have achieved a placement rate of 85%. Our average starting wage is over $20 per hour, and more than 30% percent of our graduates are being placed into supervisory roles. The program is experiencing an increase in the enrollment of female and senior ranking servicemembers and spouses.  In fact, 10 out of 15 students in our October class at Fort Riley had 20 or more years of experience in the military.
Our classes at Fort Hood are quickly reaching capacity and classes as far out as May 2019 are nearly full.  Word is traveling quickly through the base and manufacturing communities that the Heroes MAKE America training program is effective in helping service members find well-paying and rewarding careers. We've learned that servicemembers from other bases are requesting Fort Riley and Fort Hood as their post during their last year to six months of service to enroll in our HMA training. 
Our graduates continue to secure incredible post-military careers with companies such as: Arconic, Cargill, DuPont, Georgia Pacific, Goodyear, Honeywell, Smithfield Foods, Spirit AeroSystems, Stratasys Direct, TUVA, and many more. Thank you to all our incredible sponsors and program partners. Your generosity and desire to assist our nation's transitioning veterans is what keeps America strong. As we look to 2019, we will be expanding the HMA training program to three additional bases to train and prepare hundreds more service members for careers in manufacturing.

---

Upcoming Events

November 30, 2018- Fort Hood Graduation Ceremony
December 11, 2018- Fort Riley Graduation Ceremony

---

HMA 2019 Class Dates

Fort Hood                                            
2 Jan – 1 Mar 2019 
4 Feb – 5 Apr 2019 
4 Mar – 3 May 2019 
1 Apr – 31 May 2019 
6 May – 5 Jul 2019 
3 Jun – 2 Aug 2019
1 Jul – 30 Aug 2019
5 Aug – 4 Oct 2019
3 Sep – 1 Nov 2019 
1 Oct – 13 Dec 2019
Fort Riley
7 Jan – 15 Mar 2019
11 Mar – 17 May 2019
20 May – 2 Aug 2019
Aug – Nov - TBD


---

HMA Students on Tour: Boeing

Fort Hood students from classes 1 and 2 tour the Boeing facility in San Antonio, TX, which is the largest free-standing, high bay aircraft hangar in the world. They learned how Boeing provides maintenance and modifications to civilian and military aircrafts.

---

Companies We're Touring This Quarter

Fort Hood                                            
Allergan
Arconic
Athena Manufacturing
Behlen
Caterpillar
Exxon
Frito Lay
Halliburton
MTC
Newpark
Tokyo Electron
Trane
Wilson Art
Fort Riley
Arconic
Bergkamp
BNSF
Caterpillar
Frito Lay
Georgia Pacific
Goodyear
Great Plains Manufacturing
Hill's Pet Nutrition
Labconco
MARS
R- Tech
Rev Group
Spirit AeroSystems
Textron

---

Manufacturer Spotlight-Allergan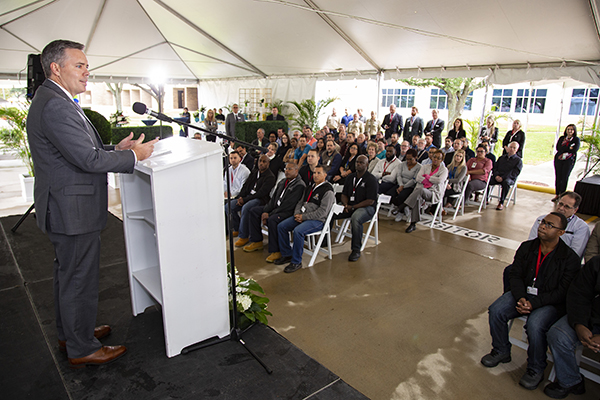 Allergan Waco Plant General Manager & VP James Hamilton welcomes Heroes MAKE America students from Fort Hood.

Allergan, a leading global pharmaceutical company with operations in Waco, hosted a tour for our Heroes MAKE America classes in October. The Allergan Foundation is a three-star sponsor of the program. The tour left participants feeling connected to the veteran community at Allergan and enthusiastic about careers in the pharmaceutical industry. Students toured production lines alongside Rep. Bill Flores (R-TX), a member of the House Veterans' Affairs Committee, and heard from Allergan leadership: EVP of Global Operations Wayne Swanton, EVP of Corporate Affairs and Chief Communications Officer Alex Kelly, and Waco Plant General Manager and Vice President James Hamilton. Allergan's pledge to invest in veterans and welcome them to their workforce reflects their commitment to corporate social responsibility (CSR) and dedication to giving back to their local communities.
The Allergan Foundation is a U.S.-based, private charitable foundation committed to providing a lasting and positive impact in communities where Allergan employees live and work. Headquartered in Dublin, Ireland and with locations in approximately 100 countries, Allergan is focused on developing, manufacturing and commercializing branded pharmaceutical, device, biologic, surgical and regenerative medicine products for patients around the world.

---

HMA Student Spotlight –SPC Brittany Lulloff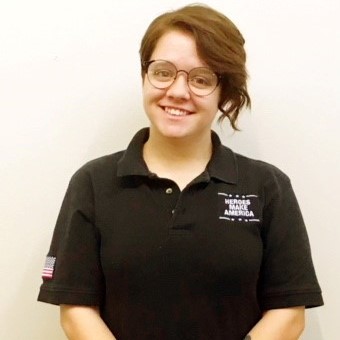 Specialist (SPC) Brittany Lulloff is currently enrolled in our Fort Hood HMA training program. She soon will be separating from the United States Army after successfully completing four years of active military service. SPC Lulloff is From Wills Point, Texas and is the second oldest of nine siblings and joined the military to create stability for herself and her family. During her military career, SPC Lulloff served as a culinary specialist but is very excited to bring her military skills and training, coupled with the education and training she received during the Heroes MAKE America program, to the manufacturing industry. SPC Lulloff completed a deployment to South Korea during her time in service. During her military service, SPC Lulloff received the Good Conduct Medal and the Army Achievement Medal. She is half-way through our training program and is enthusiastic about pursuing a manufacturing career in central Texas!

---

Did You Know
SHRM has created a new guidebook for hiring veterans
The SHRM Foundation is excited to announce the launch of their new guidebook, The Recruitment, Hiring, Retention & Engagement of Military Veterans. This FREE guidebook – developed for HR professionals, hiring managers and front-line supervisors – will help you better understand the value veterans bring to your workplace and how to engage and integrate veterans in your organization.
You can download this free guidebook here.
America's Heroes at Work — Creating a Welcoming Environment
Creating a welcoming environment for Veterans and returning Service Members doesn't take much effort - but it does take some thoughtful planning. What follows are suggestions for how to assess your current processes and explore including Veteran-specific actions into your strategy.
To learn more click here.
Register now for the 2019 Secretary of Defense Freedom Award.
Has your employer's support made it easier for you to serve in the National Guard or Reserve? Does your civilian employer promote military service, support your family, and keep in contact while you're on routine duty, responding to natural disasters, or serving in a deployed location? If so, you should nominate your civilian employer for the 2019 Secretary of Defense Employer Support Freedom Award.
Register here.
Calling all Texas Manufacturers!  "We Hire Vets" Texas Employer Military Recognition Program
Texas Governor Greg Abbott, and the Texas Workforce Commission (TWC) have partnered with the Texas Veterans Commission (TVC) to launch the "We Hire Vets" employer recognition program.  This program will recognize Texas employers whose workforce consists of at least 10 percent military veterans by providing their enterprise with a decal to display on their storefront, as well as an electronic decal for their website.  The "We Hire Vets" program is a component of the TWC's Texas Operation Welcome Home initiative, which was created under Governor Abbott's charge to identify gaps in services to Texas service members transitioning into civilian life. For more information please click here.

---

A Special Thanks to Our Sponsors

Founding Sponsor

---

4-Star Sponsor

---

3-Star Sponsor

---

3-Star Sponsor

---

2-Star Sponsor

---



Association Partners Network
---