A Letter from Carolyn Lee, Executive Director, The Manufacturing Institute
Dear Heroes Community and Partners,
The HMA program made immense strides in 2018, its first year of operation, and will continue to grow in 2019. We are already well on our way to adding several more program locations this year, beginning with Fort Bragg in April.
To keep up with the program's expansion, we have also expanded our staff. The Manufacturing Institute welcomes Babs Chase as our new vice president of military and veterans programs. Babs comes to the Institute with a wealth of knowledge about civil-military programs, having spent most of her Washington, DC career in the Pentagon where she did outreach for the Secretary of Defense as well as the Secretary and Chief of Staff of the Army. Babs will help us capitalize on the successes of last year and raise Heroes to new heights.
Jennifer Goodman has also joined the team as the program manager for Fort Bragg in North Carolina. Jennifer has extensive experience with programs for soldiers and veterans, having worked directly with Soldier for Life (the Army's Transition Assistance Center) as well as consulting with companies looking to build programs for Veterans.
We are excited for the year ahead and look forward to working with all of you further.
Best regards,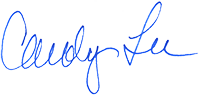 Carolyn Lee
Executive Director
The Manufacturing Institute
Fort Hood, TX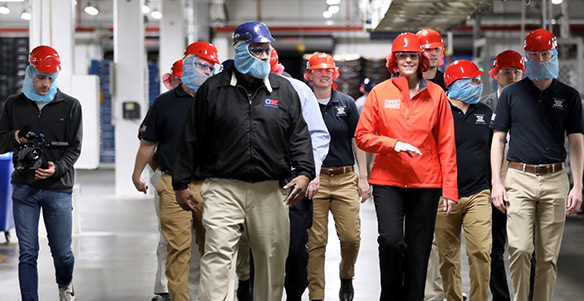 Fort Hood students participated in the NAM State of Manufacturing Tour 2019 in Houston, Texas, in February, accompanying Manufacturing Institute Executive Director Carolyn Lee. The HMA students toured Microsoft, where they saw cutting-edge augmented-reality technology; BP, where they learned about drilling and production processes; and Bimbo Bakeries, where they saw a large-scale baking operation. Tours like these allow the Heroes MAKE America students to see up close how modern manufacturing works and how new technologies are changing and improving it.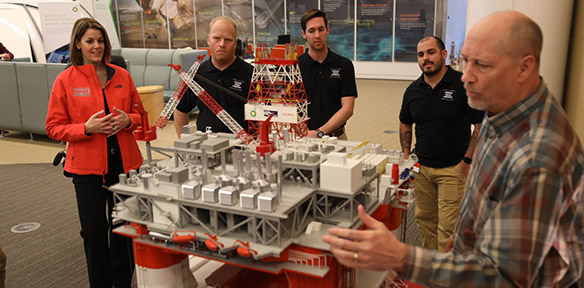 Fort Hood graduated 45 service members in 2018 and is well on its way to exceeding these numbers in 2019, with more than 35 service members already enrolled.
---
Fort Riley, KS

Fort Riley hosted its first-ever Heroes MAKE America employer networking event on February 6 (sponsored by Novelis). Prior to the event, representatives from Novelis came to the HMA classroom to talk about their company's operations as well as discuss career openings. Novelis Operations Lead Bradley Russell related his own experience of transitioning out of the military and into a rewarding career in manufacturing. Meanwhile, several manufacturers participated in the networking event, speaking with more than 20 HMA students about possible pathways for their future careers. The next event at Fort Riley will be held on April 17. Please contact Fort Riley Program Manager Rachelle Wolford for details.The Fort Riley program graduated 56 service members in 2018 and, with more than 45 already enrolled, is well on its way to topping those numbers in 2019.
---
Fort Bragg, NC
The Manufacturing Institute is looking forward to expanding our Heroes MAKE America Certified Production Technician training program to Fort Bragg, North Carolina this spring. We will be partnering with Fayetteville Technical Community College and the Soldier for Life Transition Assistance Center. Classes will begin on April 23, with four sessions scheduled for this year. If you are interested in becoming involved with our Heroes MAKE America program in North Carolina, please contact Jennifer Goodman at [email protected].
---
Class Dates and Events

Fort Bragg
Fort Riley
Fort Hood
April 23 – June 26
July 15 – September 17
October 7 – December 12
March 11 – May 17
May 20 – August 2
August 5 – October 11
October 7 – December 13
March 18 – May 17
May 20 – July 26
August 6 – October 4
October 7 – December 13
Events
Fort Riley Employer Networking Event – April 17
Fort Hood Employer Networking Event – May 1
Fort Riley Class 2 Graduation – May 17
Fort Hood Class 2 Graduation – May 17
---
Manufacturer Spotlight: Samsung


Megan Pollock, vice president of strategic communications for Samsung, announced Samsung's sponsorship of Heroes MAKE America at the Institute's Celebration of Veterans last November at Ft. Hood.

Samsung, a South Korean company, is one of the world's largest producers of electronic devices. Samsung specializes in the production of a wide variety of consumer and industry electronics, including appliances, digital media devices, semiconductors, memory chips and integrated systems. The company's vision is to "Inspire the World, Create the Future." Samsung not only seeks to impact the world of technology, but also strives to do so while being one of the most ethical companies in the world.

As part of its ongoing commitment to America's veterans, Samsung awarded The Manufacturing Institute a $1 million grant in 2018 to expand our Heroes MAKE America program to additional military bases over the next three years. This grant will allow the Institute to train hundreds more service members, military spouses and veterans and help them find rewarding careers in the manufacturing industry.
---
Heroes Spotlight
Fort Riley Student – Maxwell Bozeman

Spc. Maxwell Bozeman is a native of Shreveport, Louisiana, and a graduate of the third HMA class of 2018. Spc. Bozeman spent his entire three years in the U.S. Army as an indirect fire infantryman stationed at Fort Riley, Kansas. Spc. Bozeman is a graduate of Louisiana Tech University and holds a Bachelor of Science with a focus in geographic information science and cartography. During the course, Spc. Bozeman found a mentor in John Buckley, military relations manager with Koch Industries, who visited the class to discuss his military transition guide. John proved to be an amazing resource for Spc. Bozeman during his application process with Georgia Pacific, through which Spc. Bozeman secured the job of plant operator with the company in Enid, Oklahoma. According to Spc. Bozeman, the HMA program provided essential help with resume-building and interview practice, while the knowledge he acquired in class gave him an advantage over other applicants.

Fort Hood Student – Joseph Smith

SFC Joseph Smith is a native of Florence, Kentucky, who entered the Army in 1999 as an attack helicopter technician. During his time in the Army, SFC Smith served multiple assignments at Fort Hood, Texas, as well as assignments at Fort Riley, Kansas; Camp Eagle, South Korea; and the Army Recruiting Station in Cedar Rapids, Iowa. He also completed multiple deployments to Bosnia, Iraq and Afghanistan. SFC Smith considers his completion of a bachelor's degree in marketing to be one of his greatest accomplishments while on active duty. After entering the Heroes program, SFC Smith received job offers from Guardian Glass and Arconic, both located in the Davenport, Iowa, area. After careful consideration, he accepted the job of maintenance area supervisor with Arconic. The company's strong veteran's program made it especially appealing to SFC Smith, and he is looking forward to being part of it. He and his wife, an Iowa native, are excited to be moving back to her home state with their four sons.