A Letter from Babs Chase, Vice President, Military and Veteran Programs
Dear Heroes Community and Partners,
The Heroes MAKE America team has been busy, and we are thrilled to share some of the great successes from this quarter! We launched our third installation—Fort Bragg in North Carolina—and graduated our first cohort on June 14th.  This brings our collective number of graduates across all of our programs this year to 72. 
Thanks to the incredible support from our sponsors and community partners, we have hosted more than 70 modern manufacturing tours across North Carolina, Texas and Kansas this year.  We have also held three networking events with more than 100 service members, veterans and companies, resulting in our continued 85% placement.
Heroes is on track to expand to two additional installations by this fall—Fort Benning in Georgia and Fort Campbell in Kentucky. We are also pleased to announce that the Heroes MAKE America career center will launch later this month, so keep an eye out for updates relating to access and use.
We are excited to work with you on continuing the growth of this program to help create opportunities for the incredible individuals participating in the Heroes program. 
Best regards,
Babs Chase
Vice President, Military and Veteran Programs
The Manufacturing Institute
Fort Hood, TX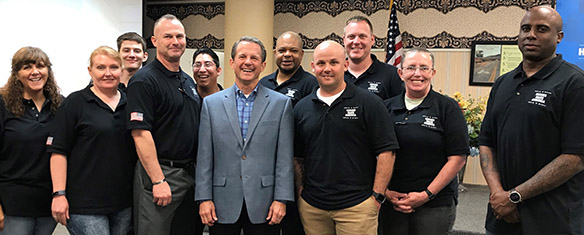 Tony Radoszewski, President and CEO of the Plastic Pipes Institute, visited with Heroes participants during the Fort Hood inaugural networking event.
Heroes MAKE America at Fort Hood knocked it out of the park with its first networking event in May, hosting more than 70 attendees.  We want to extend a huge thank you to Novelis for sponsoring the event which helped connect our Heroes participants with potential employers. Thank you all those who came out and helped make this a success.
On Thursday, May 30, the Fort Hood Heroes participants attended the Centurion Military Alliance transition workshop. The service members expanded their knowledge on resume fundamentals, salary negotiations and the interview process.
Our third cohort of the year will graduate on July 26. Twenty-nine participants at Fort Hood have already completed the program in 2019, landing jobs all over the United States, including in: Texas, Georgia, Mississippi, Alabama, Iowa and Florida.
If you are interested in becoming involved with our program in Texas, please contact Tony Lawrence.
---
Fort Riley, KS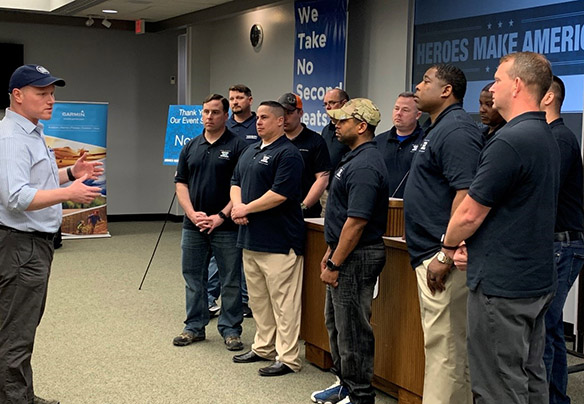 Congressman Steve Watkins (KS-02) addresses the Heroes class during our Networking Event on April 17th.
Fort Riley delivered another successful networking event in April on the campus of our education partner, Washburn Institute of Technology, thanks to our sponsor, Novelis. We were honored to host Congressman Steven Watkins, an Army combat Veteran, who thanked the service members for their sacrifice and congratulated them for their foresight to participate in a program setting them up for post-military success. He also recognized the manufacturers for their ongoing commitment to hiring veterans.
Fort Riley co-hosted its first Lunch &  Learn with the USO Pathfinder on June 26. The manufacturers had an opportunity to provide an overview of their company, network with attendees and conduct on-site interviews. We will be offering these events on a monthly basis. If you are interested in participating in a future event, please reach out to Rachelle Wolford.
Fort Riley is on track to double our number of graduates in 2019, having already graduated 34 transitioning service members in 2019.
---
Fort Bragg, NC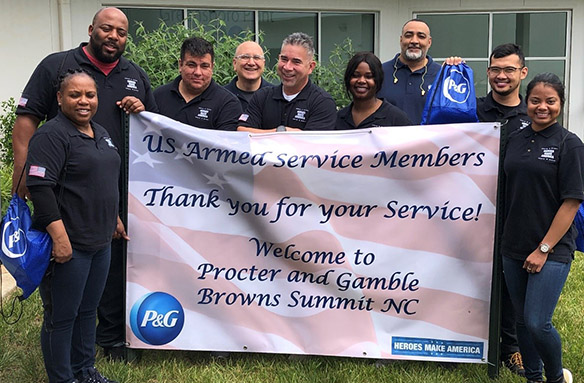 Fort Bragg's first Heroes MAKE America class toured Proctor and Gamble.
Heroes MAKE America has graduated its first cohort at Fort Bragg, NC which was launched earlier this Spring in partnership with Fayetteville Technical Community College. We launched a Certified Production Technician training program on April 23 with eight phenomenal students.
Several regional manufacturers hosted the students for tours including but not limited to: Cargill, Smithfield, ABB, Pfizer, Proctor & Gamble, Parker Hannifin, Siemens and National Gypsum.
If you are interested in becoming involved with program in North Carolina, please contact Jennifer Goodman.
Class Dates and Events
---
Fort Hood
Fort Riley
Fort Bragg
August 6 – October 4
October 7 – December 13
August 5 – October 11
October 7 – December 13
July 15 – September 17
October 7 – December 12
Events

| | |
| --- | --- |
| July 17 | Fort Bragg Networking Event |
| July 24 | Fort Hood Networking Event |
| July 31 | Fort Riley Networking Event |
| August 2 | Fort Riley Class 3 Graduation |
| August 2 | Fort Hood Class 3 Graduation |
| September 17 | Fort Bragg Class 2 Graduation |
| October 16 | Fort Bragg Networking Event |
---
Manufacturer Spotlight: Koch Industries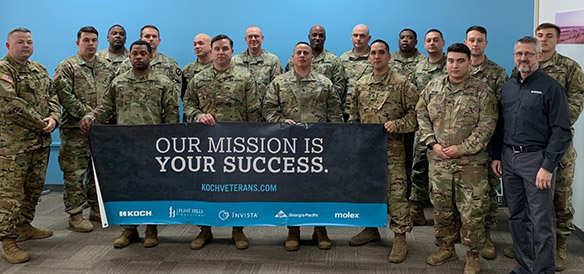 John Buckley, retired Army Colonel and Military Relations Manager for Koch Industries, shared his transition experience with the students at Ft. Riley.
Koch Industries, headquartered in Wichita, Kansas, has been an integral part of the Heroes MAKE America program since its inception. John Buckley, the company's Military Relations Manager, has been a champion to many of our participants, sharing the story of his personal transition from military to manufacturing with several of our classes. Koch Industries creates and innovates a wide spectrum of products and services, ranging from energy produced at their seven ethanol plants to smart flooring with their STAINMASTER carpet. Guided by eight principles—integrity, stewardship and compliance, principled entrepreneurship, transformation, knowledge, humility, respect and self-actualization—Koch, and its founder Charles Koch, seek to innovate, improve and transform in order to create greater value. Heroes is grateful for the invaluable support provided by Koch Industries.
---
Association Partner Spotlight: Associated Equipment Distributors Foundation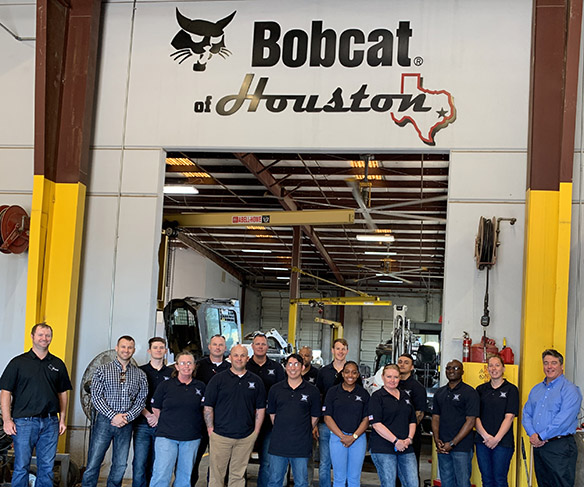 Thanks to the AED Foundation, the Fort Hood Heroes participants toured Bobcat of Houston.
The Associated Equipment Distributors Foundation enhances the success of member companies by encouraging continuous learning, by providing educational opportunities for today's employees and by improving the availability and quality of equipment industry employees in the future. The AED Foundation is committed to reversing industry stereotypes and attracting young people and talented professionals to the construction equipment industry and helping employers to keep their employees' skills sharp and effective through continuous education. The AED Foundation has been instrumental in bolstering the attendance of manufacturers at our networking events at Fort Hood and Fort Riley. Congressman Watkins' participation in our Heroes networking event at Fort Riley was a direct result of their focus on educating legislators on the importance of workforce development. We thank them for their involvement.
---
Student Spotlight
Fort Riley – Patrick Brennan

Patrick Brennan joined the U.S. Army in January 1999 as an Aircraft Structural Repairer and retired earlier this year after 20 years. Serving in the military allowed Brennan to see the world, with his first duty station being Ansbach, Germany. Brennan proudly served his country at various levels, from a platoon sergeant all the way up to the Production Control Non-Commission Officer in Charge. As Brennan started his transition to retirement, he looked into many of the training programs that the Army Soldier for Life program offered. According to Brennan, the Heroes MAKE America program stood out because it offered many opportunities for him to find his next career while keeping his family's goals a priority. He says that the training was relevant to what he wanted to do outside of the military and would offer him an active career that would allow him to grow professionally. Brennan has already started his next adventure as a Production Supervisor with Camso in Junction City, KS.

Fort Hood – Logan Reiser

Logan Reiser is retiring after serving more than 23 years in the United States Army. During his service, Reiser was a part of multiple deployments and overseas rotations, including locations such as Iraq, Bosnia, German and Korea. Reiser has been the recipient of two Bronze Stars, three Meritorious Service Medals, four Army Commendation Medals and six Army Achievement Medals. He is also a member of the Order of Saint Barbara and has earned his gold and silver spurs, which display his commitment and desire to give back to the Army and his community. With the help of the networking opportunities offered by the Heroes program, Logan Reiser joined Morgan Corporation as a Production Supervisor on May 20, 2019.
---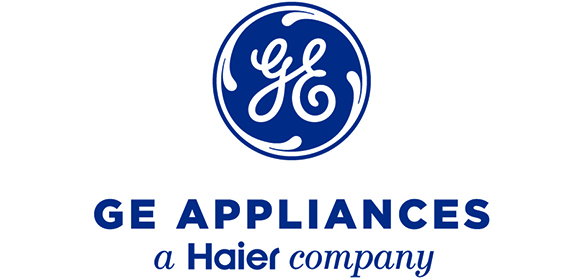 Commander Level