Dear Heroes Community and Partners,

Welcome to The Manufacturing Institute's inaugural Heroes MAKE America (HMA) newsletter, a quarterly effort to share program updates, shine a spotlight on participating service members and manufacturing partners and provide helpful information. It's also a great way to express appreciation to program partners and sponsors, without whom this critical program would not even be possible.

It has been a landmark week for the HMA program. More details on all of that below, but as HMA now officially enters its eighth month, we are constantly thinking of how to best recruit, learn and grow it further as well as ways to evolve it so that it best serves the needs of our nation's service members, their families and the companies that are part of this most critical sector. You probably have thoughts on all of this, too. I hope you will share them. This is an ongoing conversation and one we invite you to join. Of course, we also hope you will participate in the program in other ways as well to contribute to its growth even more directly—by hiring a graduate, for instance.

HMA wouldn't be what it is today without the strong support of companies and corporate foundations like Allergan Foundation, Arconic Foundation, Cooper Standard Foundation, National Gypsum Company, Newpark Resources, Procter & Gamble and Parker Hannifin Corporation as well as HMA Association Partners Network members Associated Equipment Distributors, National Fluid Power Association and the Vinyl Siding Institute. A very special thank you goes out to Arconic Foundation, whose generous support has provided for the development of this very newsletter.

HMA may still be a young program, but it is off to a great start. We're proud of all we've achieved already and I hope you are, too. Stay tuned for more developments and milestones as we continue to expand our efforts.

Best regards,

Carolyn Lee
Executive Director
The Manufacturing Institute

---


---

Expanding to Fort Hood

As IndustryWeek reported, The Manufacturing Institute was excited to announce the launch of the inaugural Heroes MAKE America class at Fort Hood, Texas, earlier this week on August 6—a major expansion of the program. Fort Hood's HMA program is taught by the Institute's newest educational partner, Central Texas College, at its main campus located right outside the installation's gates. Fort Hood will run four classes throughout the remainder of 2018 via rolling monthly start dates designed to give transitioning service members maximum flexibility when choosing class dates that fit with their transitioning timeline.

Upcoming Events at Fort Hood
October 22 – Mini Career Fair (Please email Robert Schumacher, Fort Hood marketing coordinator and transition services specialist, or call him at (254) 288-0827 for more information.)
Upcoming Class Dates
August 6 – October 5
September 4 – November 2
October 1 – December 7 (10-week course due to holidays)
November 5 – January 25 (12-week course due to holidays)

---

Moving Forward at Fort Riley

The inaugural location of the Heroes MAKE America program in Fort Riley, Kansas, also continues to push forward through the remainder of 2018 with its third class starting earlier this week—like Fort Hood, also on August 6—and its final class of 2018 beginning on October 8. Fort Riley HMA has graduated 26 service members already, and those graduates have achieved a notable 85 percent placement rate with companies like Georgia-Pacific, Honeywell, Goodyear, Cargill and many others. As the program continues to expand at Fort Riley, we expect to see even larger classes and even more highly qualified individuals entering the manufacturing industry and finding their own pathways to meaningful and rewarding careers.

Upcoming Events at Fort Riley
September 4 – Monthly Employer Networking (Please email Sharone Washington, transition employment liaison, or call her at (785) 239-2248 for more information.)
November 8 – Education and Hiring Fair (Please contact Benita Edwards, employment readiness program manager, for more information.)
Upcoming Class Dates
August 6 – October 12
October 8 – December 14

---

Manufacturer Spotlight—Arconic

Arconic is committed to giving back to servicemen and women by preparing them for success in their civilian careers. Last fall, The Manufacturing Institute—with support from the Arconic Foundation—created a video to highlight the vital role of America's veterans in the manufacturing workforce. The video follows an Arconic employee, Ronda, who shares how military experience helped prepare her for 27 successful years at the company. In discussing their support of this work, Suzanne van de Raadt, vice president of global communications and program development at Arconic Foundation, highlighted the leadership and dedication to excellence that veterans bring to Arconic. "Arconic and Arconic Foundation are proud to help our veterans find a home in manufacturing," said van de Raadt, "and we are incredibly grateful for our amazing employees, like Ronda, who work tirelessly every day to make Arconic a top U.S. manufacturer."

Arconic's lightweight metal products are used worldwide in aerospace, defense, automotive, commercial transportation, building and construction, energy and industrial applications. As a 4-Star Sponsor, Arconic offers Heroes students the opportunity to tour and observe operations at locations in Kansas and Texas. Arconic's best practices for attracting and retaining veteran talent can be found in the SERVE Toolkit, a guide for manufacturers to develop a strong network of veteran ambassadors.

---

HMA Student Spotlight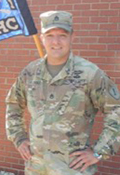 Staff Sergeant (SSG) Charles Granger is a highly decorated veteran who has proudly served his country for the past nine years in the Army. He was awarded the Purple Heart Medal along with the Combat Infantry Badge. He is also a May 18, 2018, graduate of the Fort Riley Heroes MAKE America program. Through the Heroes MAKE America program, SSG Granger—who also holds an associate's degree in applied science from Central Texas College—has found not only a new career, but a new passion in life.

SSG Granger began his military career in 2009 as a mortarman at Fort Lewis in Washington, and after being promoted to sergeant team leader, he was relocated to Fort Bragg in North Carolina. Continuing to progress in his military career, SSG Granger was promoted to mortar section sergeant for the 2nd Brigade 1-18 Infantry and is currently stationed at Fort Riley with his wife and three children. Deployments during his active-duty service include two tours in Afghanistan. As of August 13, SSG Granger will finalize his transition from military service to the civilian manufacturing industry when he begins his employment with Honeywell in Grandview, Missouri, as a quality assurance inspector. We are honored that SSG Granger chose the Heroes MAKE America program to set himself up for post-military success. SSG Granger joined the Manufacturing Institute's Executive Director Carolyn Lee as a special guest at the SAS Institute's Manufacturing Summit earlier this week where he shared why this program was of value and interest to him and how he hopes to see his career go from there.

---

Heroes MAKE America First Graduation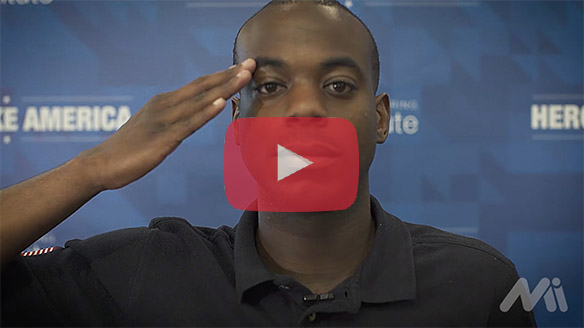 ---

Did You Know?

Certain veterans are eligible for the Work Opportunity Tax Credit (WOTC). The WOTC is a federal tax credit available to employers who hire individuals from eligible target groups who face significant barriers to employment. If certain criteria are met, there is no limit on the number of individuals an employer can hire to qualify to claim the tax credit and some employers can earn a tax credit of between $1,200 and $9,600 per employee, depending on the eligibility of the new employee and the number of hours worked in the first year. Visit the WOTC website for more information on eligibility requirements, how to apply for the tax credit and WOTC contacts in your state (not intended as tax advice; consult a tax professional to determine your eligibility for this program).

---

News: The White House on Workforce Development

The Manufacturing Institute joined President Donald Trump last month as he signed an executive order to make the expansion of workforce development opportunities a national priority. As Ivanka Trump outlined in The Wall Street Journal, the executive order establishes the National Council for the American Worker and creates an advisory board of public- and private-sector leaders to implement effective training programs to train and retain workers for high-demand industries. The administration is also asking industry leaders to sign its "Pledge to America's Workers" as a commitment to invest in the workforce, and the Institute encourages companies to share their pledge with us as we collect the pledges of manufacturers nationwide. The strategies the White House announced complement the many workforce initiatives underway at the NAM and the NAM's Manufacturing Institute, such as Manufacturing Day, Creators Wanted, the NAM State of Manufacturing Tour, Heroes MAKE America, STEP Ahead, the Skills Gap Survey and Dream It. Do It. The Institute looks forward to continued engagement with the administration to make this newest strategy a success. Sign the pledge to America's workers and join the Institute's efforts to capture the pledges of manufacturers in America by sharing it with us.

---

A Special Thanks to Our Sponsors

4-Star Sponsor

---

3-Star Sponsor

---

2-Star Sponsor

---

1-Star Sponsor

---


Association Partners Network
---

Brought to you with the support of the Arconic Foundation.